When I was in my early twenties and at the height of my modeling career, my husband at the time and I were involved in a catering company called Good Food Catering. As we had a restaurant at the time where I was the chef, it seemed a good thing to do. Good Food Catering threw the closing party for the Statue of Liberty back in the early 80's. She was to undergo an overhaul. We had the pleasure of catering that event and it was a priceless experience for those who attended and a once in a lifetime occurrence for us.
So, I love a good event! When it comes to events these days the go to person is Cristina Verger at cristinaverger.com. Cristina can make your event happen with ease, grace and no pressure…no matter where you are in the world. From weddings and anniversaries, to openings and launches, she has the impeccable taste and talent that makes your event one that all your guests will rave about.
Although we haven't met, I have heard so much about her from many of my friends, I feel I know her. I know th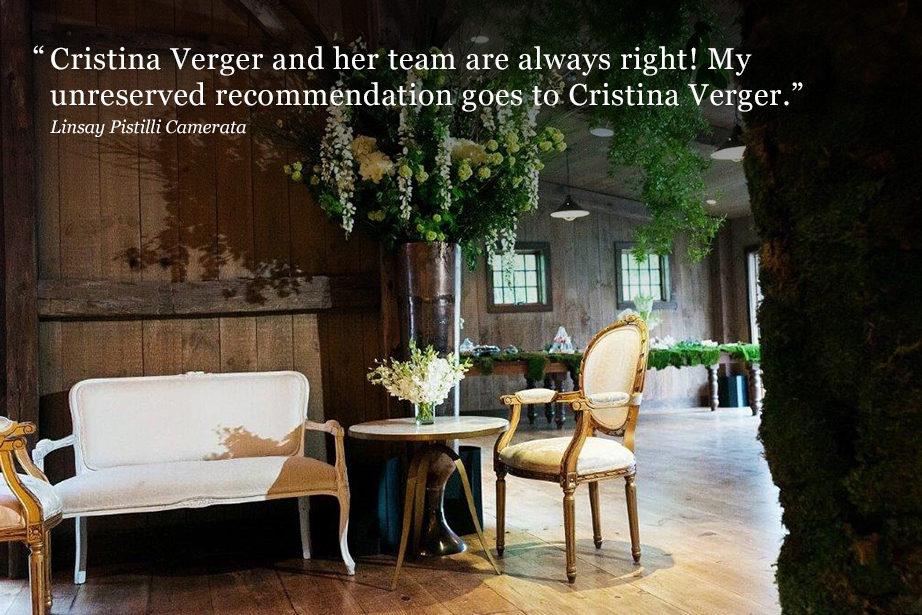 at the next event I need planned – she is my go to gal!
I love you Cristina Verger, you inspire me!
Check out her amazing events and give her a call cristinaverger.com
In her own words::  I always wanted to have my own business since I was a young girl.  My mother owned and operated her own hotel and it was my desire to take over when I was old enough.  However, life decided we should move to the US and so … never completely having let go of my plan, when I felt "strong" enough to embark on this new adventure I did and here we are 17 years later owning and operating an event/wedding planning company with satellite offices in Rome, Milan, Paris to assist with destination weddings in Europe.
Maybe I am a little crazy? In a good way, but truly, this is the only thing I want to do, honestly!  I am the happiest when I am working with a client and creating their event. Whether a wedding, birthday celebration, anniversary or any other special occasion that they have envisioned. I love bringing to them a level of service, creativity elegance and excitement that they could never have imagined. I love seeing the expressions on their faces.  I think it is a job that truly allows me to use all my skills in the most creative way which I find extremely fulfilling.
On the day of their event, I want them to feel like  a guest at their celebration, to enjoy it thoroughly, to have absolutely no stress, and ultimately to feel that all their expectations were surpassed.  I love to hear—you gave us so much more than we ever expected! That is really why I do what I do, in the end.